Meet the Vetsource leadership team
At Vetsource, we're united in our focus to deliver the best pet healthcare business solutions for our customers. The Vetsource leadership team paves the way and guides us to success.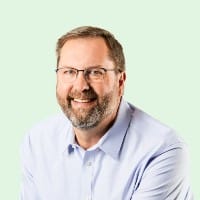 Kurt Green
President & Chief Executive Officer
Kurt is part of the Vetsource founding team. He has 15 years of experience in the veterinary industry, and more than 25 years of management experience in Fortune 500 companies, as well as starting and growing small- to medium-size technology businesses.
Andrew Bane, PhD
Chief Operating Officer
Part of the Vetsource founding team, Andy has 15 years of experience in operations, logistics, supply chain, and customer service in the veterinary industry. He also has previous experience in human pharmaceutical and entrepreneurial business environments, including at Teva and Bristol-Myers Squibb.
Craig Sutter
Chief Technology Officer
For more than 20 years, Craig has managed technology teams in banking, retail, and healthcare operations.
Steve Henrickson
Chief Financial Officer
Steve has spent more than 25 years managing finances for manufacturing and e-commerce corporations, most recently with Expedia Group.
Ami Murthy
Chief Product Officer
Ami has over 10 years of experience in product management and growth, most recently with New Relic.
Sara Barstow
General Manager of Retail
Sara has more than 20 years' experience in customer engagement, relationship management, and driving execution.
Asa Pogrelis
VP of Commercial Strategy and Managing Director of Prescription Management
Asa has more than 27 years of veterinary sales, marketing, and commercial strategy experience under his belt.
Stacee Santi, DVM
Managing Director, Client Engagement
Dr. Santi has more than 20 years of experience practicing veterinary medicine, and 10 years' experience creating technological solutions for veterinary teams.
Katie McClean
Managing Director, Data & Insights
Katie has been managing teams and maximizing growth for more than 18 years, with the last 9 of those years in the veterinary industry.
Chuck Aest
Managing Director, Payments
Chuck has held financial and operational leadership positions across multiple industries, including veterinary, telecommunications, and travel, for more than 25 years.
Howard Werth
Corporate Treasurer
Howard has 30 years of financial and senior management experience with manufacturing and technology companies focusing on financial, operations, and strategic management to drive growth and operational excellence.
Mark Baldwin
Vice President of Sales
Mark has over 25 years of experience in pharmaceutical, medical device, and veterinary sales and management.
Brenda Murphy
Vice President of People
Brenda has more than 30 years of experience in people leadership, employee development, and business administration.
Lisa Hannah
Vice President of Marketing
Lisa has 25 years of marketing experience across multiple industries, business models, and customer segments, with a consistent focus on building high-performing teams to drive growth.